When I was in college, I used to dream of studying at Magdelene College, Cambridge. Along with my mate, I used to pore over the British Council literature, IELTS forms and spin dreams of 'when we get to Magdelene...'. Of course none of them materialised but I was certainly left with a dream of atleast visiting the college to get a feel of it.

Luckily enough, Cambridge isn't too far from Brentwood and on one late summer morning, we set off quite early and found ourselves on the motorway without too many speed demons spoiling our pleasure. Thanks to the light traffic, we reached our destination well before 10.00 AM and after parking our car in the monstrously expensive parking lot, we set about exploring the town.

In my family, getting lost is a pre-requisite and it is how we explore new and exciting places. Letting ourselves loose in the pre-congestion charged London, we drove round and round this old city and ooh-ed and aah-ed over the various beautiful buildings. Cambridge was no exception - within minutes of exiting the car park, we were lost and walked around like a bunch of drunks in the middle of a desert before we ended, quite by chance, at the marketplace. The stalls were full of old books (which I made a beeline for), lovely fruits and vegetables from nearby farms as well as, incongrously, hot bhajis and samosas! After breakfasting on a hot samosa followed by fresh strawberries and cream, we set about trying to see what this old city was all about.

After reading the map correctly for once, we reached River Cam and the punting starting point well before the place got inundated by tourists. Choosing ourselves a lovely punt and a gorgeous French punter, we set off on a slow and relaxed note. The area surrounding this end of River Cam was really beautiful - lush, green, Weeping Willows lined the banks on either side followed by a profusion of gorse bushes on the park, on the opposite side. The bridge overhead was devoid of vehicular traffic and all in all, it was a pleasantly serene air that enveloped us.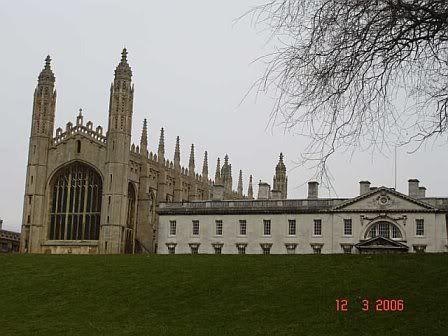 King's College and Chapel
Slowly, we glided past the colleges. Called The Backs, as they back onto the river, St John's College, Queen's College, King's, Trinity, Trinity Hall and Clare, looked so beautiful with their sweeping lawns and sprawling grounds. Tales of Kings and Queens of yore, as well as of wars and scheming courtiers were narrated by Jacques, our punter. Looking across the expanse of King's college, I could almost hear the distant cannons of the First World War. The chapel of King's College, when it came into view, was gloriously regal - apparently, the stained glass window panes were preserved carefully during the Wars to protect them from becoming casualties and one is thankful of all that hard work, as the windows look amazing.
St John's frontage - where Harry says 'UP' to his broom!
The front of St John's was covered in flaming red ivy and seemed oddly familiar. When I queried him, Jacques told us that it was there, in the front lawns, that a scene from the first Harry Potter movie was shot - precisely, the scene where Harry first learns to fly on a broom. The building is called a Wedding Cake, apparently, as it looks somewhat like a lavishly tiered wedding cake. We also passed the Bridge of Sighs, modelled along the lines of the one in venice.
Mathematical Bridge
One thing to be said re the punters/guides - no one told us to take what they say with a pinch of salt. Like a pair of lemons, we swallowed his spiel and found it was all tosh when we arrived home and Googled for it. For example, he told us this wonderful story of the Mathematical Bridge - how it was built without the use of any nails or other fasteners and according to the lore, how some college boys decide to take it apart after a night of drunken merriment, found to their dismay that they couldn't do so and had to resort to the use of nails and screws, much like the rest of us lesser mortals. All hogwash, says the authentic Cambridge guide.
Magdalene Street
We finished up at Magdalene College corner, where the original Cam Bridge was. (Bridge across the river Cam - hence Cambridge, says Jacques.) I spent more than a few minutes gazing at the building, thinking 'if only....'.
Once back on
terra firma
, we explored the rest of the town on foot. There are so many colleges around you, chock full of history, you literally don't know what to go for. For a small fee, one can experience the pleasure of wandering through the buildings and grounds of these colleges. As it was the closest I could ever come to actually be inside a Cambridge University college, I felt £5 was a small price to pay and happily parted with it so I could wander about King's College and its awesome chapel. According to the University rules, if one wishes to get married in this sumptuous Chapel, either the bride or the groom must have been a student of King's! What an exclusive place!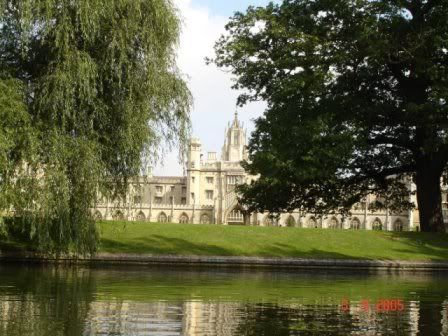 Trinity College
Across town, in Trinity, we were pointed in the direction of the rooms once inhabited by Sir Isaac Newton. Just outside the windows, on the front lawn, was a scrawny apple tree said to be the offspring of
the
apple tree that was instrumental to the whole theory of gravity. Whether it was fact or just another urban legend, I couldn't help feeling buzzed about standing there, next to the great grand child of the tree that helped formulate one of the fundamental theories of life.
Newton's apple tree with his old rooms in the background
The town is rather quaint and apart from the numerous University buildings, has vast expanses of beautifully laid out parks, swimming pools, a well-appointed theatre and a great many other things to interest the average tourist. Situated around 50 miles from London, Cambridge is so full of history that walking around the colleges, on the grounds where monarchs and great inventors once walked, one feels oddly humbled. If you are ever in this neck of the woods, do add Cambridge to your tour itenerary. It is definately a trip well worth in memories. One word of caution though - the parking fee is rather steep; so if you are driving to the place, you could do well to park it in one of the Park & Ride areas and taking the buses into town. Then you are free to spend as much time as you like ambling away, rather than worry about the parking fee awaiting your pleasure on your return!
Posted by DesiGirl 9:58 pm    
1 Comment: