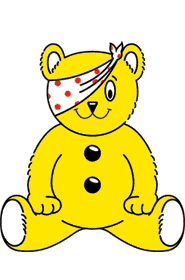 Every year, in November, this spotted, yellow teddy bear with a patch over one eye makes an appearance in the UK. He goes by the name of Pudsey and is the mascot of the hugely popular fundraising event known as Children In Need. As its slogan goes, every penny raised will go to the needy children of UK.

Members of the public take up the actual fundraising. High Streets might be littered with people with the collecting pails. Teens wearing wacky outfits and standing in the cold with a bucket in hand are a sight that will be seen all over the country on that day. If your town is really lucky, Pudsey might even put in an appearance!

The actual scale of this has to be seen to be believed. I am not talking about a few kids here and there trying to collect a few pennies. Huge organisations donate large sums of money. There are events held locally, proceeds of which go towards Children in Need. Most offices have a 'come dressed in your regular clothes' day, whereby employees pay £1 for the privilege.

Schools tend to take it a step further, try and make a fun event of it, so it is enjoyable for the children as well. Little P's school wanted me to send in a teddy bear or a stuffed toy with him to school today. Which is why, the good folks of Brentwood saw me lugging a life-size teddy bear up the cardiac hill that is Queen Street. I tried telling him that taking the teeniest bear will give him an edge over the other kids when he takes part in the 'My teddy bear and me' race. Would he listen? Nah!

He could also go to school, dressed in his jeans and tee, paying a pound first, of course. The Ursuline down the road had given the choice to the girls – they could just dress up in pink and have a fun time, letting their imagination run wild. As I was huffing and puffing my way past, I was swiftly overtaken by this huge pink bunny and a spangly outfitted fairy. Looking at her skimpy outfit made me break out in goose pimples!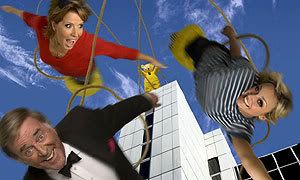 The grand finale to the day's fundraising drive is the live show that takes place at the BBC studios in London and in other big cities like Cardiff, Manchester, Liverpool, Edinburgh and Belfast. Pop acts, cast of local mega serials and other assorted celebs shake a leg or belt out a song, all in the name of charity. The lineup is usually impressive – popular girl band Girls Aloud opened the night's proceedings in London followed by McFly, Ronan Keating, former Spice Girl Emma Bunton who pirouetted on stage, along with her other Strictly Come Dancing mates, putting their newly learnt dancing skills on display.

Cast members of Coronation Street, Holby City and Hollyoacks also donned the greasepaint and tights to perform live on stage as well as the cast of West End production, Sound of Music.
Terry Wogan was at the helm this year too, ably aided by Natasha Kaplinski and Fearne Cotton. Together they urged the viewing public to dig deep and donate. Throughout the show, hundreds of people were in the studio, manning the special Children In Need telephone lines and those willing to part with their cash could ring the line and pledge the money. The amount of money they manage to raise every year is staggering. Last year, it was around £18 million pounds.

What makes the people of Britian part with so much money year after year and take part in this event so enthusiastically? I have thought long and hard about it and all I can say is, the tag line 'every penny goes to a needy child in the UK' is the key. After the Oxfams and other assorted charity outfits that collect money for far-flung places, a homegrown one, for their own suffereing children, strikes a powerful chord in the people'' hearts, making them give and give, year after year after year. And give they did, to the tune of £18,300,392 on the fundraising night last Friday.

Well, charity sure began – and ended – at home!
Posted by DesiGirl 6:44 am    
Labels: appeal, BBC, bunton, charity, childre in need, CIN, downtown, keating, ronan, UK
0 Comments: